Replenishing and Rejuvenating Beauty Set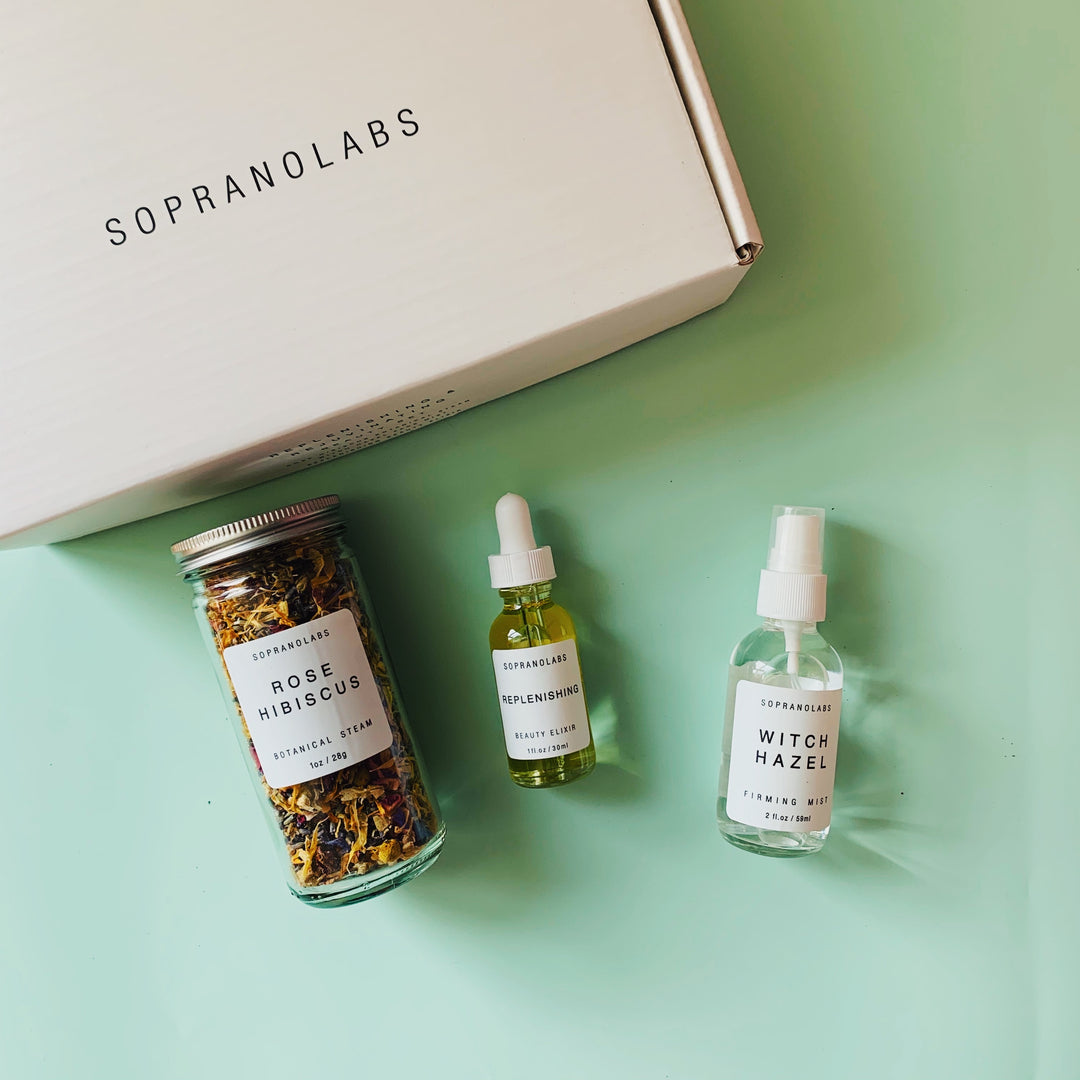 Replenishing and Rejuvenating Beauty Set
Regular price
$6600
$66.00
Sale price
$5000
$50.00
Save $16
In stock, ready to ship

Inventory on the way
We all need a little R&R, don't we?
REPLENISHING & REJUVENATING Beauty Set helps to regenerate skin for a youthful radiance. ROSE HIBISCUS BOTANICAL STEAM,
WITCH HAZEL FACE MIST, and REPLENISHING BEAUTY ELIXIR work together to improve visible signs of aging by restoring skin's essential moisture. Skin the looks denser, firmer and more radiant.
ROSE HIBISCUS BOTANICAL STEAM is formulated with fragrant flowers and herbs specifically chosen for their skin-benefiting properties. Steaming helps in dilating the pores and makes it easier for extractions, and removing blackheads and dirt. Once your pores have opened and the dirt and debris have been eliminated, your clean pores can now better absorb products you might use, such as a face mask or serum. Facial steams are calming to the senses and are a wonderful way to absorb the pure, unbridled essence of beneficial herbs. they give tired, dull skin that rosy, dewy post-steam glow. Steaming is a great way to release toxins that could be causing imbalances in your skin.
Directions: Place 1-2 tablespoons of blend into a large bowl, cover with 3-4 cups of boiling water. Lean over the bowl, covering the head with a towel, and steam for 10-15 minutes. Follow with a cool water rinse. You can reuse the floral water by adding it to a clay mask for a full facial treatment.
WITCH HAZEL FIRMING MIST helps normalize oily skin, revitalize pores and reduce blotchiness. Our Witch Hazel Firming Mist works to hydrate dry, dull skin, leaving it soothed, and pH balanced after cleansing. This cooling, alcohol-free toner is a simple, natural product that can do wonders for your skin. Its travel-friendly mist applicator makes it ideal for setting makeup and refreshing the skin throughout the day.
Directions: Gently apply with a cotton pad or spray directly over face with your eyes closed after cleansing or throughout the day whenever you need a refresher. Follow with treatment and moisturizer.
REPLENISHING ELIXIR blends precious plant and German Chamomile Essential oils to minimize the appearance of fine lines and wrinkles, shield against environmental stress, and support the skin's natural moisture barrier for deep hydration. Non-comedogenic and fast absorbing, it deeply nourishes and soothes sensitive skin prone to redness or irritation. The skin regains a soft, supple texture that feels transformed, fresh, and radiant.
Directions: For best results, use on damp skin or hair. As Daily Moisturizer gently massage onto damp cleansed skin every morning, evening, or as needed. Blend one to two drops with any moisturizer for an added boost of hydration. It can be layered underneath moisturizer or on top of moisturizer, to seal in hydration.
Handcrafted in New York